Bright & Airy Lightroom Presets, Photoshop Actions and ACR Presets
Bright & Airy Lightroom Presets, Photoshop Actions and ACR Presets
Create beautiful bright images that your clients will love and get your time back. Get 30 custom presets that we created with you in mind. These beautiful Airy and Bright presets will completely transform your images and create dreamy photos, increase image depth, brighten up shadows, add a mild grain and a soft toning, tone white levels.
sale
WHAT'S INCLUDED IN THE PACKAGE:
30 Bright and Airy Lightroom Presets that compatible with Adobe Lightroom 4 - 7, Classic and Creative Cloud (CC) versions

40 Toolkit Lightroom Presets that compatible with Adobe Lightroom 4 - 7, Classic and Creative Cloud (CC) versions

13 Light Leaks Lightroom Presets that compatible with Adobe Lightroom 4 - 7, Classic and Creative Cloud (CC) versions

30 Bright and Airy .dng files that compatible with Lightroom CC Mobile

30 Bright and Airy Photoshop Actions that compatible with all versions of Creative Cloud (NOT compatible with previous versions)

30 Bright and Airy Adobe Camera Raw Presets that compatible with CS6 and later versions

Download link will be sent to the email address

Fully compatible with JPG and RAW Images

Detailed installation instructions included

Compatible with both a Mac and PC

Fully adjustable settings

Lifetime free updates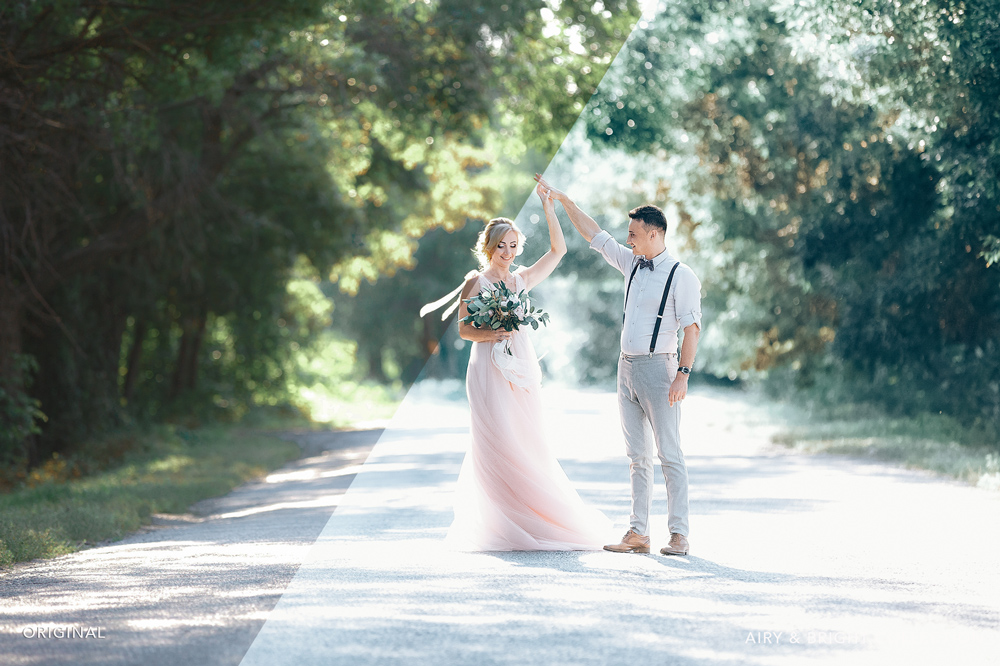 These presets are just a treasure for professionals, work great on underexposed and properly exposed images. Great choice for almost any kind of photography. Help to achieve a modern clean and creamy film look to your portrait, engagement, wedding and love-stories photos, fashion, lifestyle and family images. Designed to make your best photos even more beautiful and memorable. Easy to install. Simple to use.
Probably, every photographer loves these gentle light photographs. Are you asking yourself how to achieve this effect easily?
You should definitely pay attention to this light and airy Photoshop actions and Lightroom presets for desktop and mobile if:
You are trying to achieve the perfect result editing your images, but spend too much time in Lightroom or Photoshop and still not satisfied with a result you get.

You can't find useful light and airy tutorials for Lightroom and worrying that you don't have enough time for shooting.

You are looking to upgrade your old Lightroom presets for light and airy photos.

You want to try something new.
Why spend hours editing each individual image from your sessions when you could edit your photos with just a few simple clicks? Stop these exhausting searches of perfect solutions for editing your images and try our Bright and Airy Lightroom presets and Photoshop actions collection.
Capture important moments, beautiful details, and stunning portraits. Create an aesthetic within your work with our Airy and Bright Collection. Enjoy the professional and charming result. These beautiful airy presets will not just streamline your workflow process, but they will also create an amazing consistency in your work that your clients will love. Sometimes you will need to tweak the settings after a preset is applied to achieve an awesome looking end result (use our Toolkit to achieve the best.
Before you place your online order, make sure you read our Terms of Service and Use and FAQs

Visit our Blog for free photography and post-processing tips and tutorials!